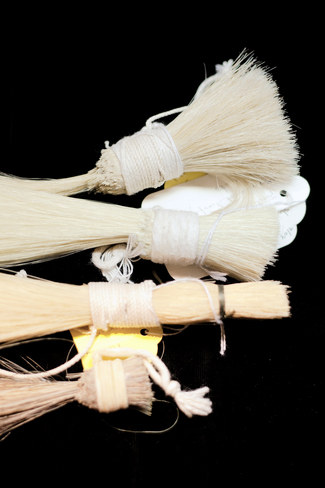 With over thirty-five years of experience in the field, I offer a full service of bow maintenance, repair, restoration, conservation, and new making. You will find descriptions of my approach to each below.
Maintenance
Things wear out. Everything needs to be renewed, repaired, and maintained. A bow is no different. The hair, the eyelet, the thumb leather, and the pearl slide will all eventually need to be replaced. I offer all these services and many more. Many clients regularly ship me their bows for rehairing and routine maintenance, as they have come to depend on the quality of my materials and work and my ability to adjust these procedures to their particular needs.
Repair, Restoration and Conservation
The distinction between repair and restoration is often a fuzzy line. Repair is the process of bringing a bow to a sound and workable condition after wear or damage. Restoration is the process of returning something as close as possible to its original condition while being in harmony with the patina of the bow, and the constraints of its present use. My approach in both repair and restoration seeks to achieve this with little or no loss of further original material in the process. This necessitates workshop techniques which are conservative and non-invasive, executed with integrity and beauty. Knowledge of the original characteristics, the historical significance of, and the player's goals for the bow guide me in determining the proper approach.
Conservation is rarely an approach desired by an individual player, but is often the goal for bows being placed in museum or private collections. Here the object is to stabilize a bow in its present condition, preserving every possible detail for future generations. At times previous repairs or alterations which are considered inappropriate or historically inaccurate may be removed.
New Making
The primary focus of my making is upon historical bows. I have made bows for most of the instruments of the violin and the viol de gamba family and from many different historical periods. Informed and inspired by original examples, I endeavor to reproduce the spirit of these bows for today's musician. I have a handful of early models to which I return repeatedly, at times varying the wood and adjusting the dimensions to the demands of the individual piece of wood, so that each bow is a unique creation. I also enjoy the challenge of working with a player to create a bow to suit his particular needs, or for instance working with another to produce a realization of a bow pictured in a seventeenth century Dutch painting. Stability, subtlety and beauty of line are qualities which I seek to instill in the birth of my bows. I also make modern bows for violin, viola and cello, influenced in both style and technique by early 19th French bow making.
Contact me by phone or email for more details and prices.
You may make arrangements to come to the workshop or to ship your bows.
Trial periods for bows can be arranged.