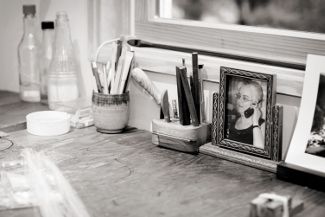 My interest in the craft of working on bows began at William Monical's shop in 1974, where I regularly visited to observe him work. He taught me beginning skills of making and restoration, which led to my employment with bow maker William Salchow in New York in 1976. There I learned the traditional French method of bow making and bow restoration.
In 1980 I moved to the firm of William Moennig and Son in Philadelphia, soon becoming head of the bow department. My years at Moennigs' provided the opportunity to study and work on many fine bows. In all of these endeavors, William Moennig III shared valuable insights and helpful critiques. In 2008 I moved and opened my own shop.
I was privileged to participate in several Oberlin Bow Making workshops between the years 1998 -2002 where I was able to further refine my skills by observing and working alongside some of the world's finest bow makers. In 2001 I completed a bow making session under the tutelage of Rodney Mohr. I was accepted as a member of the American Federation of Violin and Bow Makers in 2001. I have become known primarily as a maker of historical bows, exhibiting several times at the Boston Early Music Festival. I particularly enjoy restoration of fine bows and the making of Baroque period bows. Riggall bows are in a number of Early Music groups and university/conservatory collections.
My shop is located in Hatboro, Pennsylvania, just north of Philadelphia. I am available for rehairs, repairs, restoration, new making and consultation.